It's been a really awesome day! I got to meet Honey, my new companion and she's such a sweetie! I don't know yet how old she is, and while she's the smallest in the class, she seems to be very young yet. She's a Golden Retriever, but doesn't have the feathers on her legs yet and just seems still young. But that being said, she's been one of the better behaved dogs in class so far, really just being awesome in what she's doing and making it soooo easy for me. If I can just quit making all the mistakes! LOL!
Here she is: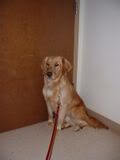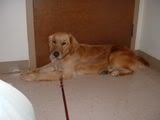 We met and stayed in our room for about an hour until they came and got everyone to take the dogs to break. She did do #1 for me and did great coming back inside. We then all went to the lounge and she settled right down and was great as the other dogs came in and got settled. After our discussions and talk about how much to feed the dogs and how to feed them, she did awesome in guiding me back to my room.

I'll be feeding her 3 cups of Iams food, once a day. We just put her food down and she's eating great! :) Did a VERY good sit and stay too! :) They'll come back in a bit to take her out to break and then we'll do the tie down for dinner and after dinner we'll work with our trainers on guiding. :)

Yay!!!!! I love her already! She's came and laid down beside me too. :) YAY!!!!!